---

---
Leave no neighbour behind.
Monsignor Walter Hawkins Council
St. Joseph/St. John Council 10631
Knights have been serving
communities since 1882
— Other Knights of Columbus Councils in Guelph and area —
⇒ Our Executive ⇐
---
Easter Raffle 2023 – Support for Ukraine
Our Easter Raffle in 2023 will have all proceeds going to the Ukraine Solidarity Fund as the support for refugees continues to grow. See this link for more information
There continues to be a strong and immediate need to support Ukrainians due to the on-going crisis in their war torn nation. As the situation in Ukraine evolves the need for support continues to grow such as providing clothing, shelter, food and medical supplies.
Knights of Columbus Council 10631 will again hold an Easter Raffle with all proceeds going to the Ukraine Solidarity Fund. As last year we have made available to Parishioners the ability to donate directly to the fund via the website or giving our Council a cheque/money where we can then donate the funds on your behalf. A tax receipt will be provided for donations only so please ensure address is included with your donation.
The Easter Raffle draw will take place on Saturday, April 22 nd in St. Joseph's Parish Hall at a Potluck dinner. More information on the dinner to follow.
There are currently several high valued prizes in the raffle with more prizes being added every week such as baked goods, gift cards, and a wide array of household items. See the list of prizes by clicking here for the updated list.
Raffle (ticket) Numbers are available at 1 for $5 or 3 for $10. To purchase ticket numbers simply provide your name and phone # or email address along with the number of ticket numbers you wish to purchase by using to the Knights of Columbus email OR contacting one of the following:
Payment for tickets can be made by one of the following methods:
E-transfer to coleri1955@icloud.com
Money or cheque made out to Knights of Columbus Council 10631. Please use a blank envelope with your payment. Simply write your name, phone # and number of raffle ticket numbers or your willingness to donate the funds to the Ukraine Solidarity Fund on the envelope. Please do not use your church envelope when dropping off at the church collection basket or office.
Please consider supporting this effort by: donating a prize, purchasing Easter Raffle number(s) or making a donation directly to the Ukraine Solidarity Fund.
---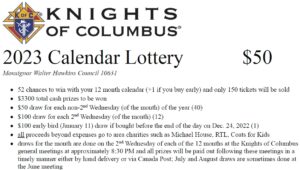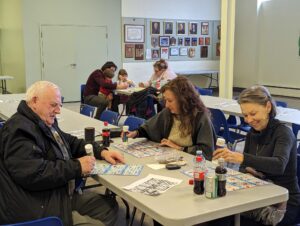 ---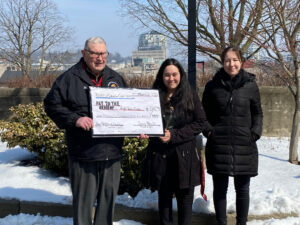 Giving is what we do